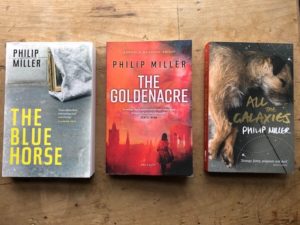 Philip Miller's third novel THE GOLDENACRE is published by Polygon in 2022.
THE GOLDENACRE is also published by Soho Crime in the US in June 2022.
Praise for The Goldenacre

A CrimeReads Most Anticipated Crime Book of Summer
"Philip Miller is a fine, painterly writer — Edinburgh at dusk, for example, is 'a weave of shadows hung in a net of light' — and he has created a first-class thriller."
—The Times Crime Club
"The Goldenacre is infused with the grey atmosphere and stylish lingo of its Edinburgh setting . . . [A] complex art thriller."
— CrimeReads
"Fans of Scottish-Grit crime writer Ian Rankin will love this twisty mystery . . . [The] plot is ingenious, and the atmosphere—both sinister Edinburgh and the embattled newsroom—is brilliantly evoked."
—Booklist
"Outstanding . . . In a style recalling the brutal dreariness of le Carré, Miller describes a pivotal character as 'sharp and severe as a snapped bone.' It's also an apt description of this biting tale of society in decline. Noir fans won't want to miss it."
—Publishers Weekly, Starred Review

"Unusual and elegant, Philip Miller's third novel [The Goldenacre] takes the Tartan Noir genre in some new and unexpected directions."
—The Scotsman

"A riveting, brutal journey into the high-stakes world of legacy art and inherited wealth."
—Denise Mina, author of Conviction and the Garnethill trilogy
"A pacy tale of crime and deception set in the world of fine art. beautifully written, with a brilliantly vivid sense of place and a killer twist, The Goldenacre is one to savor."
—Liam McIlvanney, author of The Quaker
"Art, music, politics and murder, set against a backdrop of one of the most beautiful cities in the world—what's not to love? A complex and compelling plot, with intriguing characters."
—Lesley Kelly, author of the Health of Strangersnovels
"A gritty, propulsive and moving thriller that makes important points about art, wealth and class."
—Kirstin Innes, author of Scabby Queen
"Phil Miller's Edinburgh is a city of secrets, an introverted place filled with characters so real in their humanity and yet somehow askew, imbued with the touch of supernatural shadows but also unshakeable goodness. Elegiac, moving, but always richly humane, The Goldenacre is a welcome addition to Scottish noir."
—Jackie Copleton, author of A Dictionary of Mutual Understanding, longlisted for the 2016 Women's Prize for Fiction
"Philip Miller's latest novel is a triumph of plot and character, a whirligig of twists, connections, and secrets written in an engaging and confident style. In the crowded world of Scottish crime writing Miller has carved a unique, thrilling niche for himself by blending hard-boiled journalism and the smiling treachery of the art world. Miller puts the art in Tartan Noir."
—Iain Maloney, author of The Only Gaijin in the Village
"An intriguing plot . . . Miller is an excellent wordsmith."
—Library Journal
"A promising, tear-stained debut."
—Kirkus Reviews
Philip Miller is also the author of ALL THE GALAXIES (2017, Allen and Unwin) and THE BLUE HORSE (2015, Freight).
His poetry has been published in 192, One Hand Clapping, The North, Poetry Birmingham Literary Journal, Gutter Magazine, Structo, Riggwelter, Eyeflash, Roanoke Review,  The Island Review, Northwords Now, Valve Journal, Black Napkin, Bottlecap Press, and the 2014 Fish Anthology.
Philip was a journalist for twenty years, as Arts Correspondent for The Scotsman, The Sunday Times in Scotland, and The Herald, twice being named Arts Writer of the Year at the Scottish Press Awards.
He is represented by Underline Literary Agency